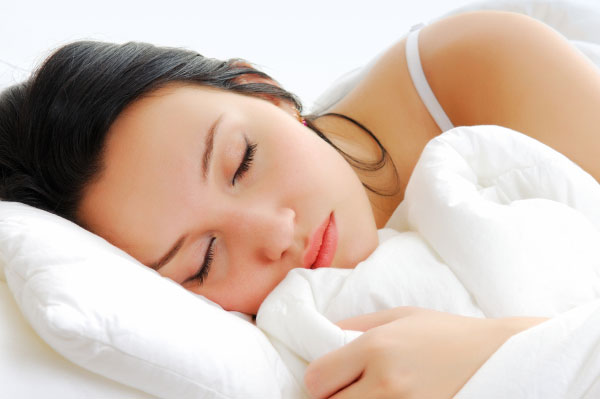 People have started to understand the importance of sleep for their health. Doctors recommend that a person should sleep for at least 6 to 7 hours a day in order to reduce the risk of the body suffering from various diseases. Here are some reasons why sleep is necessary for health and wellness:
1. Sleep makes your heart healthier: Lack of sleep is known to be one of the factors responsible for the rise of cholesterol and blood pressure in the body.
2. Sleep can also prevent cancer: People working late and compromising on their sleeping hours face a higher risk of colon and breast cancer. Melatonin is known to induce sleep and reduce the risk of cancer. People who work late suffer from low levels of melatonin in the body and hence face a higher risk for cancer. Production of melatonin in the body is suppressed because of exposure to light during night, hence ensure that your body is not exposed to light during night.
3. Sleep reduces stress: The body suffers from stress when it experiences a lack of sleep. This increasing the blood pressure and simulates the production of stress hormones. Stress not only makes it more difficult to sleep and also increases the risk of heart diseases.
4. Sleep reduces inflammation: Inflammation is known to be the primary cause of deterioration of body as it ages. Sleep reduces inflammation because of suppression of stress hormones and as a result reduces the risk for heart conditions, diabetes and cancer.
5. Sleep makes you alert: Sleep recharges all your senses and makes you more active for the next day. An active day also helps in getting a good night's sleep.
6. Sleep boosts your memory: Now this would surely excite you. Researchers have found that 6 to 7 hours of sleep is necessary for the body to retain various events and facts in the memory. When you are asleep, a process called memory consolidation goes on in your brain. The brain stays busy processing all the events of the day, sensory inputs, memory etc.
7. Sleep can also help you lose weight: Now this does not mean that you can quit that treadmill or the jogging time. This only means that you should sleep well in order to reduce the risk of becoming obese. Sufficient sleep maintains the levels of hormones in the body which in turn helps in maintaining a healthy appetite.
8. Sleep makes your smarter: An hour of sleep during the afternoon works as an alternative to caffeine. In addition, it also reduces the levels of stress hormones in the body, allowing you to think better and faster.
9. Sleep helps your body repair: Ultraviolet rays, stress etc. all lead to damage of cells and tissues. A good sleep repairs all these damages. While you are sleeping, your brain produces higher levels of proteins which are known to be the building blocks of cells and tissues.
Since sleep helps your body in several ways, sleep your way to health and wellness.